KC registered name: Blenstone Maybury
Health Information
Date of birth 28th August 2003
Hip score 6:6 = 12
Elbow score 0
Current clear eye certificate
Achievements
Qualified for Crufts 2014.
Duke has achieved the Kennel Club Good Citizen Gold Award.
Personality
Duke has a marvellous, biddable temperament and is keen on the ladies. He is a true gentleman and likes to get to know his girlfriends by giving them kisses and licks on their faces. He is a playful dog, but with this he is calm and obedient also.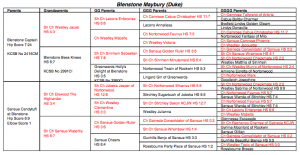 Please click on image to enlarge Pedigree