KC registered name: Blenstone Pop The Question
So named because he was born on Valentines Day.
Health Information
Date of birth 14th February 2007
Hip score 4:4 = 8
Elbow score 0
Current clear eye certificate
Achievements
He has won his KCSB (Kennel Club Stud Book) number. Amongst other things, this means that he has qualified for Crufts for life.
Philip has achieved the Kennel Club Good Citizen Gold Award.
Personality
Philip has a very affectionate nature. He loves to drape his head and neck over my lap when I am sitting down in the lounge, but is also happy to share us with our other dogs. He is a thinker and concentrates on new experiences: I often wonder what runs through his mind when he appears pensive. He always wants to be close and just loves human company.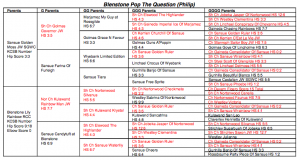 Please click on image to enlarge Pedigree