KC registered name: Blenstone Lord Rainbow
Health Information
Date of birth 12th March 2002
Hip score 9:12 = 21
Elbow score 0
Current clear eye certificate
Achievements
He has won his KCSB (Kennel Club Stud Book) number. Amongst other things, this means that he has qualified for Crufts for life.
Beau has achieved the Kennel Club Good Citizen Bronze Award.
Personality
Beau has a very sweet nature. He loves life, is very affectionate and loves to be cuddled. He can smile just like a human, and always greets us with a wagging tail and a grin.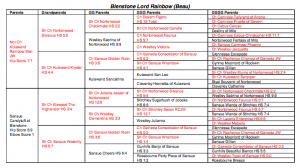 Please click on image to enlarge Pedigree